Top Solo Videos With Sexy Futanari Models
What makes a porn video so good that you can't miss out on it? It certainly doesn't require two pornstars for a video to be good, and you'll have plenty of examples of exactly that. Just because there isn't a guy in the video doesn't mean you won't have something nice to see, especially when it comes to Futanari scenes.
We're all very familiar with solo videos where only one pornstar does whatever it takes to please herself, but those days are long gone. We have something much better that is still considered a solo scene, but not necessarily. How is that possible? Well, thanks to some magic, we finally get to see scenes with one pornstar, but the main difference is that she can be seen in two forms.
Have you ever wondered what it would be like to see your favorite pornstar get fucked by the exact same copy of her? Well, now you'll be able to. We're going to see which 5 Futanari videos can be considered to be some of the best and, more importantly, why these scenes have become so popular all around the world.
Lia Lin has been working hard to become one of the best researchers in the world, and she has managed to accomplish quite a lot while working in the lab. However, nothing could have prepared her for what was about to happen next in the lab.
She had been invited into the classroom for her re-education, but little did she know, she was about to see something that shouldn't be possible. The person doing the re-education was a clone of herself! Lia was left in shock as soon as she realized she was looking at herself, but this time, there was no mirror in front of her.
Her clone decided to punish Lia because she's been doing something strictly forbidden and started spanking her nice round ass with a plastic ruler. However, that was just the tip of the iceberg of what was coming Lia's way!
After spanking her ass, the clone of Lia pulled out a big futa dick, which left Lia in shock. It wasn't bad enough that she was getting punished by a clone of herself, but she also realized that the same clone had a huge cock she usually wouldn't think twice about taking deep in herself.
Lia got on top of the table and spread her legs so the clone could start fucking her. It didn't take long for Lia to get used to the feeling of her having sex with another version of herself, so after a while, she got down on her knees and started sucking that dick! The horny researcher didn't want to stop sucking on that delicious futa dick until she got her mouth full of jizz, which made her happier than she could have ever imagined.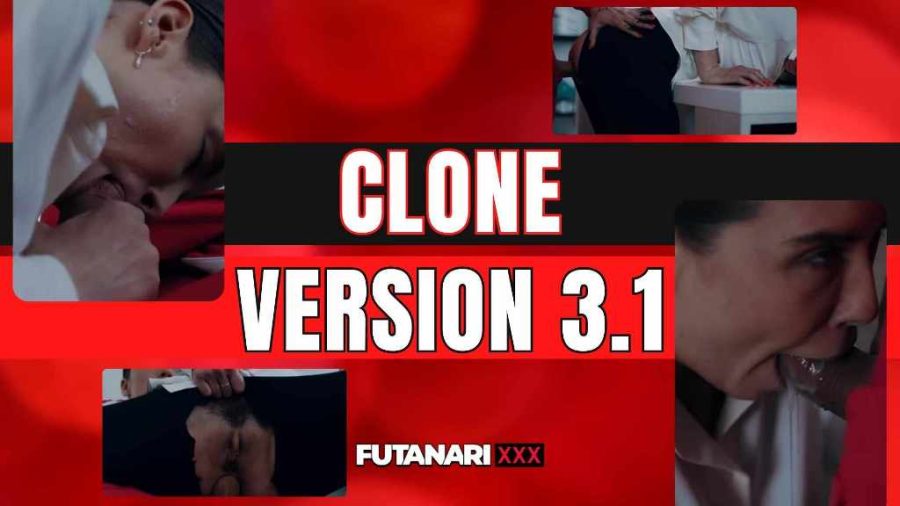 Eden Ivy had heard of the clone program a while ago and wanted to see what all the fuss was about. A couple of first versions weren't as good as expected, but thanks to the great customer service, Eden received a new, upgraded clone that had a couple of tweaks done.
The new clone had been allowed to harm humans, but not in the way you might think. The most harm this clone could do is punish the owner, which was soon about to happen.
As soon as the clone of Eden Ivy entered the room, she bent over her owner and started ripping open her pants to show her who the real boss was. Eden wasn't ready for that to happen, but a part of her started enjoying it because nothing makes this tattooed babe happier than having rough sex.
The clone started drilling Eden Ivy from behind but stopped after a few minutes because it decided it would be best to get a blowjob. Eden got down on her knees and started sucking every inch of that new clone dick, and after a while, she started enjoying it more than she imagined.
After she was done sucking that futa dick, Eden Ivy got on top of a clone and started riding her hard like her life depended on it. She didn't want to stop jumping up and down on the hard cock until she made the clone cum, and got her pussy full of warm cum, which finally ended the punishment Eden got from her clone.
Lovita Fate has fallen madly in love with her boyfriend, who seems not to care a lot about her. This time, Lovita was getting ready for a date with her boyfriend, but once again, she left her hanging, which made Lovita sad.
She started losing feelings because she couldn't handle getting treated like that anymore, so she started browsing dating apps to find someone who could appreciate her fine body. While looking through many dating profiles, she came across an ad that definitely got her attention.
The ad promised the delivery of a clone that would look exactly the same as the owner, so Lovita Fate couldn't miss out on this opportunity. She would have someone really similar to her to talk to and do so much more.
Lovita was surprised when the clone arrived the next morning, so she wanted to put the clone to good use after many days of getting stood up. The first thing she wanted to test was the intimacy program, which was the beginning of a great time Loviita was not going to forget for some time.
The clone started eating her pussy which made Lovita shake like crazy, but after a few moments, she was about to see something that shouldn't be possible. The clone pulled out a big futa dick, and Lovita couldn't miss out on the opportunity, so she immediately started drooling on it.
After she was done sucking that big futanari dick, the clone started drilling Lovita slowly and started increasing the pace as Lovita had gotten used to getting fucked by herself. They kept going at each other until the clone finally came more than Lovita thought was possible, and that was the moment she realized she would never be alone again.
Maddy Black couldn't stop looking at herself because she knew she was much more beautiful than the other girls in the world. She had spent her days putting on makeup and looking at herself in the mirror, but that was about to change because someone had knocked on her door.
As soon as Maddy opened the door, she had a lot to see. She was looking at a clone of herself, just as beautiful as she was. Most people would be shocked that they can see themselves without looking in the mirror, but not Maddy. She just couldn't stop admiring how perfect she was.
After she let the clone of herself in the room, she was about to see another surprise that was going to be even better. The clone had a big futa dick and wasn't afraid to pull it out right there in the living room. Maddy Black didn't waste any time, so she got down on her knees and started sucking it just like she usually does whenever she meets a new guy.
Busty Maddy didn't want to spend too much time sucking that cock, so she took off her clothes and got on top of the clone. Right after that, she slid that big futa dick in her shaved pussy, and started riding it mercilessly while her big boobs bounced up and down.
As much as she loves getting her pussy drilled, she loves having anal sex even more, so she decided to put that hard cock in her other, tighter hole. Once she got tired of jumping up and down on that cock, she bent over the couch to get her asshole fucked from behind, which was one of the things Maddy loves the most. The clone kept on drilling her asshole until it surprised Maddy with a huge anal creampie which put her right to sleep.
Olivia Sparkle was always obsessed with magic and couldn't stop herself from getting yet another spell book to see if it worked. However, this time, she had gotten the real deal, and after reading a couple of spells, she summoned a clone of herself that had only one minor difference. The clone had a big futa dick!
As soon as she saw that hard cock, she couldn't resist sucking it, but that was just one of the things Olivia planned to do. She quickly decided it was time to do other things besides taking a cock in her throat, so she got on top of her clone and started riding that cock like she was competing for a medal.
After a while, she wanted to switch positions, so she bent over the couch to get fucked from behind. The clone kept hitting her wet pussy from behind until Olivia got a big creampie, which made Olivia promise herself she wouldn't give up on magic ever because this was a once-in-a-lifetime experience!