Top 5 Models Who Give The Hottest Futa BJs
What's that one thing most guys love more than anything else? That's right, it's getting a blowjob from a gorgeous girl! There are even plenty of people out there who would gladly give up having sex completely if they were guaranteed to get their dicks sucked every day.
If you think about it, it doesn't sound bad to sit back and relax while getting the best blowjob ever. You wouldn't be doing anything, and you would still experience something that's going to make you feel a tingling sensation in every part of your body.
When you think about blowjobs, you probably imagine a guy being on the receiving end, which makes the most sense. Well, things are about to get mixed up a bit because you're going to join the world where some of the most famous pornstars worldwide grow a dick and start getting freaky with other chicks.
It might sound crazy in the beginning to see your favorite pornstar with a huge futa cock between her legs, but I promise you will get used to it quite fast. Why? Well, they know how to handle that dick like they were born with it, so you'll end up with plenty of mind-blowing action even though you are going to watch Futanari videos!
Some of the girls end up with a cock between their legs, and other babes get the chance to satisfy their best friends by sucking off their new futa cocks. Now, you must be wondering which one of the models has the best blowjob skills, and no one is blaming you. Everyone is looking for the best, even when it comes to Futa BJs, so let's take a look at some of the best chicks who seem like they were born with a cock in their throats!
Rae Lil Black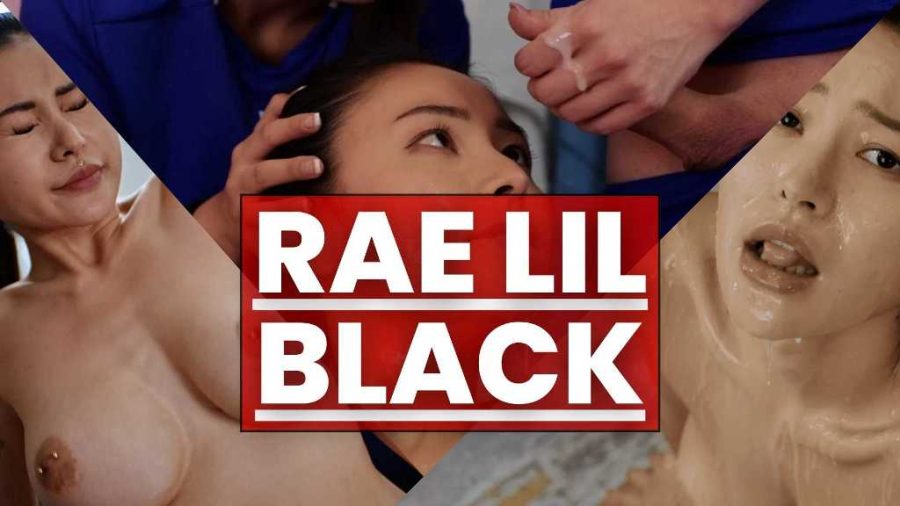 Rae Lil Black was always one of the sexiest Japanese girls who wasn't camera-shy and knew what it takes to please a man. She was used to sucking guys off, but the times have changed, and now, she has a chance to suck on a futa dick that is attached to her female friends.
It seems like she doesn't care who's the dick owner as long as she gets to taste it. That's why she wastes no time when sucking a cock, so she gets down on her knees and starts drooling on it as soon as she lays her eyes on it.
Sucking a cock is a skill that takes time to master, which Rae Lil Black obviously did! She had spent years handling a ton of cocks, and if it weren't for her persistence, she wouldn't be able to make any guy or a girl with a dick cum in a few minutes using nothing but her soft lips!
Her blowjobs include a lot more than just dick sucking. Rae Lil Black pays special attention to the entire shaft, which makes her partner moan and shake like crazy. There are no words that can describe the skills of this Japanese beauty, so the best way to see how this wild chick makes futa cocks disappear in her throat is to check out one of her Futanari blowjob videos.
Lia Lin
Lia Lin discovered her passion for dick sucking a while ago, and she has done everything in her power to master this skill for her sake and the sake of others!
Like everyone else, she was used to giving horny guys blowjobs before getting her holes drilled hard, but she decided to mix things up a bit by making unusual videos that include a lot of cock sucking but no guys. How is that possible? Well, she's not afraid of getting her hands on a futa cock.
Whether it's a futa dick or a normal one, Lia Lin won't think twice about taking it in her mouth, among other holes. She likes to start slowly by licking the shaft before making that whole huge thing disappear in her mouth. The fun doesn't stop there. Lia tries her best to give the best blowjobs every single time, which means she has to offer something extraordinary. That, she does!
Have you ever seen a chick who loves licking the entire shaft just as much as she loves sucking on a huge futa dick? Well, Lia Lin is one of those babes, and he demonstrates her blowjobs skills in 2 Futanari videos before doing all types of nasty things that will make you drool all over your keyboard!
Jennifer Mendez
Most people assume Jennifer Mendez is yet another one of the Latina babes who have big sexy curves and fantastic skills that have made many guys around the world cum within minutes. All of those things are true, except the part about her being of Latin origin. Her last name might be misleading, but none of those things matter because this Czech beauty is ready to get down and dirty, especially if she has to take a dick in her throat.
Even though she mastered her blowjob skills on a normal cock, attached to a guy, she doesn't seem to have any problems sucking on futa dicks as well. It seems almost like she enjoys sucking on futa cocks even more than the normal ones, and you can check out her skills in 6 Futanari porn videos.
You can clearly see how happy Jennifer Mendez is as soon as she lays her eyes on a hard cock, and wastes no time taking it in her mouth. All she cares about is satisfying her partner with the best blowjob ever, which means she has to do a lot more than love her lips up and down.
Her cock sucking skills are just out of this world, which shows the very first moment she comes near any futa dick. Not only does she take that whole thing in her throat, but she also makes sure to lube it up by licking it whole before swallowing it and repeating the process. There simply aren't many pornstars who come even close to Jennifer Menedez when it comes to giving futa blowjobs!
Tiffany Tatum
Tiffany Tatum was born in Hungary in 1997, and since then, she's done a lot to improve her skills. However, she had to wait 18 years before she could take the first dick in her throat, but since then, she's done a lot to bring her cock sucking skills to an enviable level!
She mastered her skills by giving lots and lots of blowjobs to guys around the world, so when the time comes to suck a futa dick, she knows exactly what to do. Tiffany doesn't like to waste time, so as soon as she sees a hard delicious dick, she makes sure to get her hands on it right away.
Even though sucking a dick is her favorite thing to do, she likes to warm it up a bit by jerking it off and licking the entire shaft before finally deepthroating that big thing like her life depends on it. People would start to wonder whether her favorite thing is to suck a futa dick or get all of her holes plugged with it, and if you have the same question, you can get your answer in one of her 4 Futanari porn videos.
Whether Tiffany makes up her mind just to suck a dick or she wants to give a blowjob before taking it in the rest of her holes, she likes to do a proper job. So, whether we're talking about a blowjob scene or an extreme porn video that starts off with a blowjob, Tiffany Tatum will rock her partner's world with her fantastic cock sucking skills!
Serina Gomez
Ever since Serina Gomez joined the adult videos, the blowjob category has started getting amazing videos that are just to die for! This Czech beauty is also known as Sereyna Gomez, but whether you come across one name or the other, you are guaranteed you're going to see a fantastic blowjob scene that doesn't come even close to the other stuff you've seen before.
Don't let her sweet face fool you because this beauty becomes a real freak when she sees a hard cock. It doesn't matter if she has a chance to give a guy a blowjob or take a futa dick in her throat because she will show her best skills every single time.
It's no secret that Serina Gomez wastes no time when it comes to pleasure. She likes to start right away, so if you were to pull out your cock in front of her, the chances are it would end up deep in her throat a few seconds later.
Not only is this hottie eager to get her hands on a dick, but she also knows what to do. She'll start off by licking the entire shaft, with the goal to lube it up, but as soon as that futa dick gets nice and wet, she'll start sucking on it like her life depends on it. Ever since she's had the chance to give her first futa blowjob, she hasn't been able to stop, and you'll have a chance to see her in action in her 4 futanari videos!